You may have noticed there haven't been any posts for a while. Since March started and I got hit with a full load of classes and assignments again, time and energy for reviews have been scarce. Writing takes a lot out of me. I faced quite the conundrum: I still wanted to review every book I read, but at the same time I've been way too exhausted to and in a massive reading slump besides. Blogging simply fell by the wayside.
This is a compromise: a series of mini reviews that don't quite fit my usual format. It's probably not going to be the last post of this type. I'm starting to feel better, there will be longer reviews again, but it's probably still a while until I'll be able to post with any sort of consistency.
Ninefox Gambit by Yoon Ha Lee (The Machineries of Empire #1)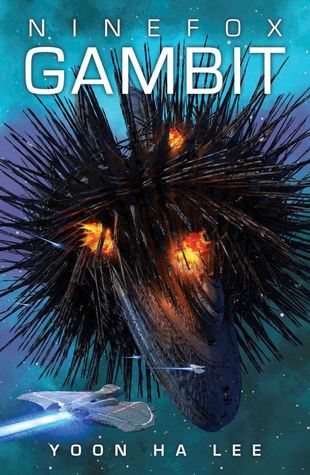 – goodreads –
This has originally been a buddy read with Paula, finished 28th of February, but I simply haven't had the time to type up a review.
It's definitely a book that took me a while to get into – I was not hooked until about 40% in. It sure was interesting, but the amount of information thrown at the reader made it very hard to connect to the plot or the characters. Didn't help that Cheris was on the very bland side. Kind of Malazan-like in that. The worldbuilding is great and quite unique (calendrical heresy!), and once it got going, it was very hard to let go and wait until we were caught up (the eternal curse of buddy reading) and the "holy shit" moments were constant near the end.
Enjoyment: 4/5
Execution: 4/5
Recommended to: sci-fi/science fantasy fans, anyone looking for unique worldbuilding
Not recommended to: those who hate technobabble and "sink or swim" worldbuilding
Tags that apply: fantasy, sci-fi, magic system, military, space opera, male author, concept-focused, lgbtq+
Treason's Shore by Sherwood Smith (Inda #4)
– goodreads –
The conclusion to one of my favourite series, this has been sitting on my shelf for far too long. To keep it spoiler-free, I will say this: the worldbuilding and the characters are as great as ever and the ending is amazing. I may have teared up a little bit. However, it has one big problem, the plague of most long books: it stalls in the middle. Horribly. In the first 90% of the book I felt no tension whatsoever, never a shadow of doubt that the protagonists would succeed, I struggled to pick it up after I put it down, and I could not say what the first half was about even though I am writing this mere minutes after I finished. It was, in short, a slog, and by far the weakest of the four.
But the ending…! The story tied up in a satisfying manner, done as well as I could have hoped. Which leaves me conflicted. Does the fact that it's a fitting ending for probably my favourite epic fantasy series make up for the fact that most of it is kind of boring? I don't know. Does it make me recommend the series any less? Not at all.
Enjoyment: 3/5, ending 4.5/5
Execution: 3/5
Recommended to: those who read the other three books, not much else to say. And if you're wondering if the series is worth it? Yes, yes it is.
Tags that apply: fantasy, military, female author, lgbtq+, high fantasy, epic fantasy, seafaring
Prince of the Godborn by Geraldine Harris (Seven Citadels #1, DNF)
– goodreads –
DNF 21%
I chose this book because I want to give more forgotten books a chance, because I wanted something shorter. And perhaps it's my slump, but I just can't. It took me three tries to get past page 2. Then I crawled to page 39 over the course of two days, asked myself why I should give a fuck, and promptly quit.
You know how fantasy books have this stereotype of throwing a lot of odd, long, overcomplicated names at you? Yeah. This book. I tried to look past it and see the story underneath, the relationship between the two brothers showed a lot of promise (yeah, Kerish is childish and impulsive and sometimes kinda obnoxious, but he is very young…and a prince), but I couldn't get past the stall of "who are all this people and places and why should I care". There is an alliance that's a bad thing for some reason, and perhaps an impending war. And something about Godborn, though at this point it was too early to know exactly what they are. All very classic-fantasy. Look, it's in no way bad. But I bounced off it harder than a rubber ball thrown at a wall.
Perhaps some other time when I have more patience.
No rating because 1) early DNF and 2) I'm not sure it's the book's fault.
Recommended to: fans of old school fantasy, those on the hunt for forgotten books
Not recommended to: those who can't stand a barrage of names
Tags that apply: fantasy, military, female author, high fantasy, epic fantasy, religion, politics, YA
A Coalition of Lions by Elizabeth Wein (The Lion Hunters #2)
– goodreads –
Goewin, Princess of Britain, fled the political mess the ending of the previous book caused, and went to Ethiopia to meet the ambassador she's betrothed to and hopefully resolve the issue of succession. Of course, she soon finds herself entangled in political intrigue.
This book is completely different from The Winter Prince – different protagonist, different setting, different story. I think this is why I have waited so long to continue the series. I'm wary of changes, especially huge ones like this, and I remember I got to like Medraut quite a bit.
For all my reluctance, it's a smooth, easy read. I'm not in a particularly analytical mood – I picked it because of that – so all I'm going to say is that it was alright, that it's a good slump-breaker, and a series worth reading. There was not much that would make me go wow (except [spoiler: the reunion with Medraut, my favourite moment]), but nothing that'd bother me either.
Enjoyment: 3.5/5
Recommended to: fans of Arthurian stories, those looking for books set in Africa, anyone who wants an easy read
Tags that apply: fantasy, female author, historical, no magic, politics, YA